Cloud Reporting Service SVF Cloud launches a dedicated application for SmartHR

WingArc1st Inc.
On 15 September WingArc1st released SVF Cloud for SmartHR, a dedicated application for cloud reporting services compatible with SmartHR. This application is available at the SmartHR Plus β app store.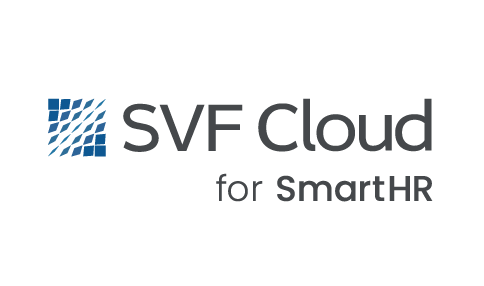 Background
In human resources and labor operations, many procedures, such as the issuance of legally required certificates, are performed via prescribed forms. The creation of forms involves a great deal of work, such as consolidating employee data dispersed across various systems, reprocessing missing data, and assigning form formats to reference source data, which can lead to human error. In addition, the need to make minor adjustments, such as correcting misaligned characters in the layout of forms at the time of printing, creates additional complications when creating forms. We decided to release this service in order to improve convenience and reduce form creation workload.
Overview of the service
SVF Cloud for SmartHR is a dedicated application that works with SmartHR to create highly detailed forms with a high degree of flexibility. It enables you to reference employee information registered in SmartHR to create forms that always reflect the latest and most accurate information, reducing human error. On SVF Cloud for SmartHR, you can use free templates to easily design elaborate forms that take into account the layout at the time of printing. In addition, fixed characters and lines from existing PDF files and paper forms can be imported in a batch and migrated to the cloud with the familiar form layout, thereby improving the workload related to the operation of forms. The original forms can be created using the SVF Cloud Designer (license included), a form design tool, and the form creation can be outsourced to a partner company. *1

*1 WingArc partner only. Contract required.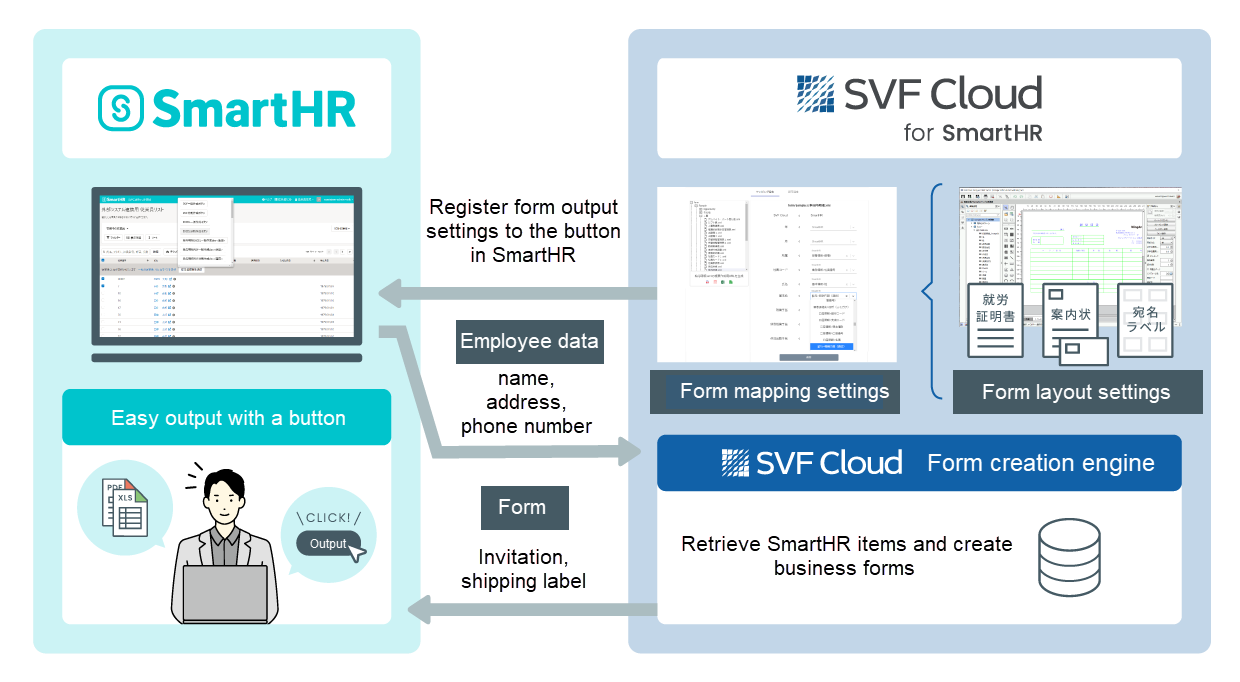 This application is available for trial at the SmartHR Plus β app store. SmartHR Plus β is available for all SmartHR users and can be accessed from the SmartHR administrator's page.
<Free templates available for SVF Cloud for SmartHR>

- Dedicated templates for SVF Cloud for SmartHR:

 ・Certificate of employment
 ・Address label
 ・Envelopes with a window for an invitation

- SVF Cloud standard templates
<Items can be imported from SmartHR to SVF Cloud for SmartHR> *2
- Employee items:
 ・Basic information
 ・Entry and exit Information
 ・Business Information
 ・Department information
 ・Current address and contact information
 ・Residential address
 ・Commuting allowance
 ・Emergency contact information
 ・Account information
 ・Salary
 ・Unemployment insurance
 ・Social insurance
 ・Spouse information
 ・Income tax information
 ・Employment contract Information
 ・Resident status information
- Custom employee items
 ・Custom items
*2 Attached files cannot be imported
About SmartHR

SmartHR is a cloud HR software service that has held the No.1 share*3 in the labor-management cloud space for four consecutive years. It eliminates paperwork and accumulates data for labor procedures such as employment contracts and onboarding. It also enables centralized management of data by linking with attendance management systems, payroll calculation systems, and other systems. Furthermore, it enables human resource management functions such as personnel evaluation and employee surveys using employee data stored in SmartHR to promote organizational revitalization and organizational transformation. SmartHR frees managers, HR and labor managers, as well as employees, from time-consuming and complicated HR and labor management tasks, thereby helping to improve corporate productivity.
*3 HRTech Cloud Market Facts and Outlook FY2021, surveyed by Deloitte Tohmatsu MIC Economic Research Institute.
SmartHR site:https://smarthr.jp  (Japanese)
Contact on Products and Services:
WingArc1st Inc.
Roppongi Grand Tower, 3-2-1 Roppongi, Minato-ku, Tokyo106-0032, Japan
TEL : 81-3-5962-7300
FAX : 81-3-5962-7301
E-mail :
*Company names and product names enlisted in this Press Release are trademarks or registered trademarks of each company.