Launched invoiceAgent Transact, a cloud-based electronic transaction solution
Transaction documents can be delivered, received, and stored on a single platform, and suppliers (recipients) can start using the platform free of charge.
WingArc1st Inc.
WingArc1st will start offering invoiceAgent Transact which sends, receives and manages orders and invoices on June 20 (JST).

■ Diversified services related to electronic forms and reduced operational efficiency
According to our survey (*1), 58.0% of Japanese companies are using electronic business-to-business transactions, and half of these (49.6%) are using two or more services. In addition, 44.8% of companies reported using different services to store, manage, and receive electronic forms, and 80.8% of companies felt this reduced efficiency.
invoiceAgent Transact enables smooth batch management of transaction documents by installing the invoiceAgent at the business partner, as well as batch management of documents received via e-mail and other services other than this service. Users of this service can smoothly promote compliance with the Electronic Book Preservation Act and the invoice system, not only with their own company, but also with the business partners to whom they distribute. The recipient of the service can also start using the service free of charge (*2).
■ Main features of invoiceAgent Transact
(1) Delivery, receipt and storage of transaction documents on a single platform

・There is no need to have separate services for delivery, reception, and storage.

・Both the company and its partners can digitize forms in PDF format without having to modify their existing systems or change the format of the forms.

・For form generation, users using the SVF, business document solution, can utilize the data embedded in the output forms with 100% accuracy. If you are not using any of the form output services, you can output forms by linking data according to the format of the form generation function of this service.

(2) Fully compliant with the electronic transaction requirements of the Electronic Book Preservation Act

・Delivery, receipt, and document management can be completed in the cloud, and each history is managed. This eliminates the need for paperwork regulations even if the documents are not time-stamped and eliminates the need for partners to provide a means for electronic storage.

(3) Receive and manage documents from multiple suppliers in one place

・Business partners are managed based on their corporate ID number. P.O. Boxes can be set up at each partner to receive and manage payments at a single location.

・To comply with the invoicing system, the registration status of qualified invoicing business operators can be checked on this service.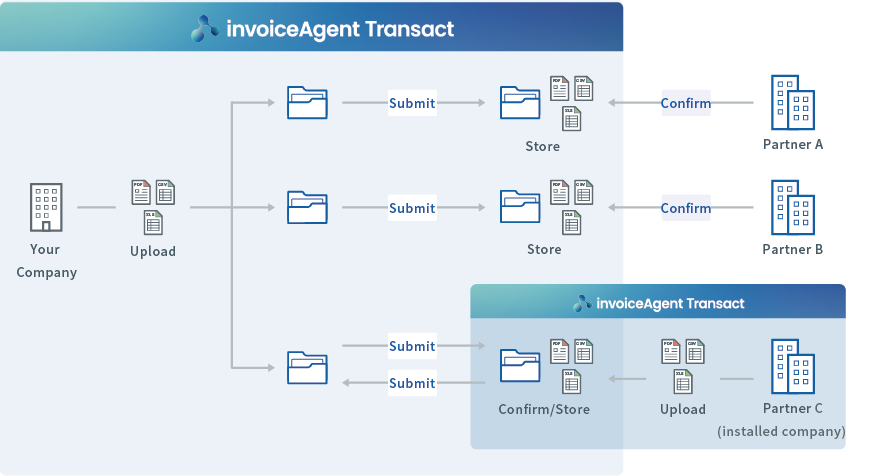 In addition, the system provides an electronic storage environment that enables business partners to comply with the Electronic Book Preservation Act, data conversion using irregular AI OCR, and other functions that make it easy for recipients to operate the system. In the future, we plan to enhance the functionality to enable data transmission via Peppol, the international standard for electronic invoices, and to link with a wide variety of other services.
WingArc1st will continue to optimize business documents distributed among companies and provide an electronic document platform that accelerates business, with a target of 500 to 600 companies by the fiscal year 2023.
■ invoiceAgent Transact

invoiceAgent Transact is a cloud-based electronic transaction solution that allows you to send, receive, and manage transaction forms in a single platform. It supports the Electronic Book Preservation Act and the invoice system while maintaining the optimal form format for your company. It accelerates business-to-business transactions through forms.
https://www.wingarc.com/product/ia/transact/index.html (Japanese)
■ Online seminar
Learning from Experts and Case Studies, Advancing Legal Compliance and Electronic Forms Forms DX DAY No. 3
We will provide easy-to-understand information on back-office DX trends, optimization of business document operations with inhouse and business partners undertaken by leading companies in various industries, and examples and countermeasures to comply with laws such as the revised Electronic Book Preservation Act and the invoice system that will be applied in October 2023.
・Date/Time 13 July 2022 14:00 to 16:30 (JST)
・Registration fee: free
・Registration: Visit this site for detail (Japanese)  
(*1) Summary of the survey
・Survey title: Survey on the Electronic Business Transactions
・Target: Company employees involved in billing-related work for companies with sales of 10 billion yen or more
・Number of valid responses: 522 (Construction; 106, Manufacturing: 107, Information system/software: 105, Finance/insurance: 105, wholesale/retail: 99)
・Survey period: 1 to 6 June 2022
・Researched by: WingArc1st Inc (Outsourced to IDEATECH Inc.)
・Method: Online survey
・Planed by: WingArc1st Inc.
(*2) The scope of use is limited.
Contact on Products and Services:
WingArc1st Inc.
Roppongi Grand Tower, 3-2-1 Roppongi, Minato-ku, Tokyo106-0032, Japan
TEL : 81-3-5962-7300
FAX : 81-3-5962-7301
E-mail :
*Company names and products names enlisted in this Press Release are trademarks or registered trademarks of each company.